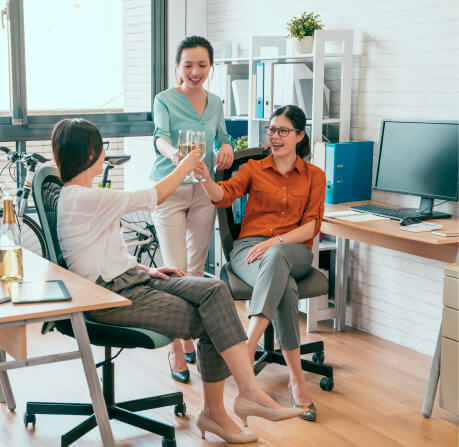 A Day
In The Life.
When we say we fuel people's ambitions, we don't just mean our customers.
We have quite deliberately built a team this is comprised of both seasoned professionals in their respective fields as well as bright and eager minds that are just starting their careers. We come from every educational, cultural and socio-economic background imaginable and we bring our considerable life experiences and unique perspectives to the table. This results in an environment that invites creation, collaboration, and innovation in equal measure.
Our people are our greatest asset, and their diversity is our greatest strength which is why we deeply invest in their potential. We celebrate constructive failures just as much as we recognize key successes because we ultimately learn, grow and win together.
Best Of Both Worlds.
The growth we have seen in the last couple of years, not just in our numbers, but also our offerings, is a credit to our team. We identified problem statements in lending models, solved for them accurately and made our products flexible in terms of acquisition and available to the relevant people at the right time. As a team, we execute and pivot swiftly without ever compromising on customer experience or the promise of new-age fintech companies: speed, efficiency and convenience.
We recognise, however, that all the technological advancements in the world cannot make up for something as intuitive as trust that is established through proven results. Our leadership team comes with a wealth of expertise in managing and scaling some of India and the world's most well-known financial institutions. Our leadership's in-depth knowledge of the Indian financial landscape combined with international exposure is hard to match.
Protium was born future ready because we have the boundless agility of a young fintech as well as the benefit of sophisticated know-how stemming from extensive experience. We believe we're poised to challenge and re-imagine established lending structures and practices.